2022 is the KIA EV6
The European Car of the Year provides an electrifying experience of the future now
The EV6 is a large, pure-electric hatchback SUV. Styling is out of the ordinary and will certainly divide opinion. However, KIA has taken on the concept of the future being electric, so the design remit deployed plugs into this and puts it out there too. It sets the EV6 apart from rivals, but also plays on the popularity for SUV styling.
Sitting higher than a standard family car, though you won't tower above other road users as you would in the likes of a Land Rover or Range Rover. However, it commands a presence, looks hi-tech and modern, and contains plenty of useful techy equipment too. The package provides a positive, clean and exciting glimpse of the future.
KIA also ensures that it doesn't scare off potential punters with range anxiety and techy complexity. It has a range that will punch well over 250 miles however hard you push it and contains simple user-friendly switch gear and touch screens for usability. In fact, the EV6 boasts a 300-mile official range in all its forms. Not only that, but it is also the fastest EV to charge, with a 10% – 80% charge time capability of just 18 mins on a superfast 350kW charger. But it will also be able to suck up 10-80% from a more common 50kW charger in 68 minutes, so it makes the most of what you can throw at it. However, with a large battery, flat-to-full on a home wallbox is still over 12 hours.
In basic performance terms, the range consists of GT-Line and GT-Line S with four-wheel drive, 320bhp and a 5.4 second 0-62mph time, but with more power comes more weight and less range, so you'll only see just over 300 miles, as long as you stay calm on the accelerator. Over and above them all is the GT that gets two motors, four-wheel drive, 584bhp and that 0-62mph time of 3.5 seconds with a top speed of more than 160mph. But yes, as usual for more potential performance you get less WLTP range – the GT will only manage 258 miles. Everything comes at a cost.
Behind the wheel
From the off the EV6 feels driver focussed. While the power assistance on the steering is strong, there is still enough feel and it's direct. The attention to driver feel is also emphasised with a slightly firmer ride from the suspension than your average family car, but it doesn't mean a harsh ride. In fact, it manages to bridge a happy medium that copes well with our increasing lumpy roads while avoiding the body roll on corners. Remember, this is a two-tonne electric machine, but that waistline is kept in check.
Various driving modes are available at the flick of a switch paddle at the bottom left-hand side of the wheel – Eco, Comfort and Sport. They are explanatory, and you'll probably spend most of your time in Eco mode. The Sport mode brings faster throttle response and heavier steering (as well as a red-for-danger dash illumination and more fake noise), making the EV6 feel more committed, stable and very capable. With the GT model, it certainly gives the likes of the Porsche Taycan and Teslas a run for their money. Even the smaller engine versions will get away from pretty much anything bar a full-on sportscar from a standstill. So, while Eco mode may be your default drive, the switching between modes is quick, which means when it comes to over-taking, you can do so with confidence, ease and a sense of safety about it before slipping back to a gentler drive. It acts like an old school 'overdrive' switch if you wish and certainly puts a smile on your face.
The only caution to more sporting B-road driving will be the sheer width and bulk of the EV6. You have to remain a little cautious on narrow lanes, but then most modern car models have grown to sizes difficult to accommodate simply within narrow lanes and parking spaces – bigger is better?
Space to breathe
Well, it does mean acres of space inside, especially without a drive train tunnel and flat floor. The gadget-count will have button-fetishists frothing – everything from advanced ADAS (advanced driver assist systems), to the latest safety kit and a huge head-up display that provides speed, speed limits, sat nav directions and so on.
There are a couple of 12.3-inch screens that make up the interior information portal, the left-hand side curved version being touchscreen, while the main dash being info-only (though with plenty of options). There's even electronic wing mirrors that appear on the dash if you use the indicator or reverse. Alongside that is a 360 degree parking camera system with birds eye view which certainly make it as easy to park as a mini.
While there is the hi-tech, it's great to see the use of actual knobs and buttons alongside to allow simple control of cabin temperature and the like. It's well laid out, although it takes more than a minute to decipher all of the various functions, but once you've ingratiated yourself with it, it's fairly intuitive. That's not to say there are intricacies and plenty of detail, but it all feels forward-thinking, rather than an agglomeration of elements. In fact it's pretty damn good, all told; driver focused, comfortable and friendly.
There's a use of recycled PET bottles in the dash plastics, 'vegan' fake leather and, despite the green marketing potential of all this, the quality is excellent, the feel to touch impressive, and the design is intuitive and attractive – it all works.
Meanwhile, space in the rear is generous, with limousine levels of leg room however far back the front passengers slide their seats. However, because of the high floor, taller adult passengers will sit with their knees high, while the tapering roof line may feel little heavy. But, again, it's comfortable, modern and refined, and the gently sculpted rear seats keep you cosseted and snug.
Practical performer
The boot manages 490-litres with the back seats in place and 1,300 with them folded. Not acres, but plenty enough for most tasks. What's more the folding system is simple and flexible. And yes, there's a 20-litre frunk (space under the bonnet) for small items that will prove more useful than you think.
As for servicing, Kia prescribes a routine workshop visit every 10,000 miles or 12 months. But remember, there's far less to go wrong or maintain with an EV. If something were to go wrong, the EV6 has a seven-year warranty and that extends to the battery, whose capacity is also warranted up to 70% of its original factory state.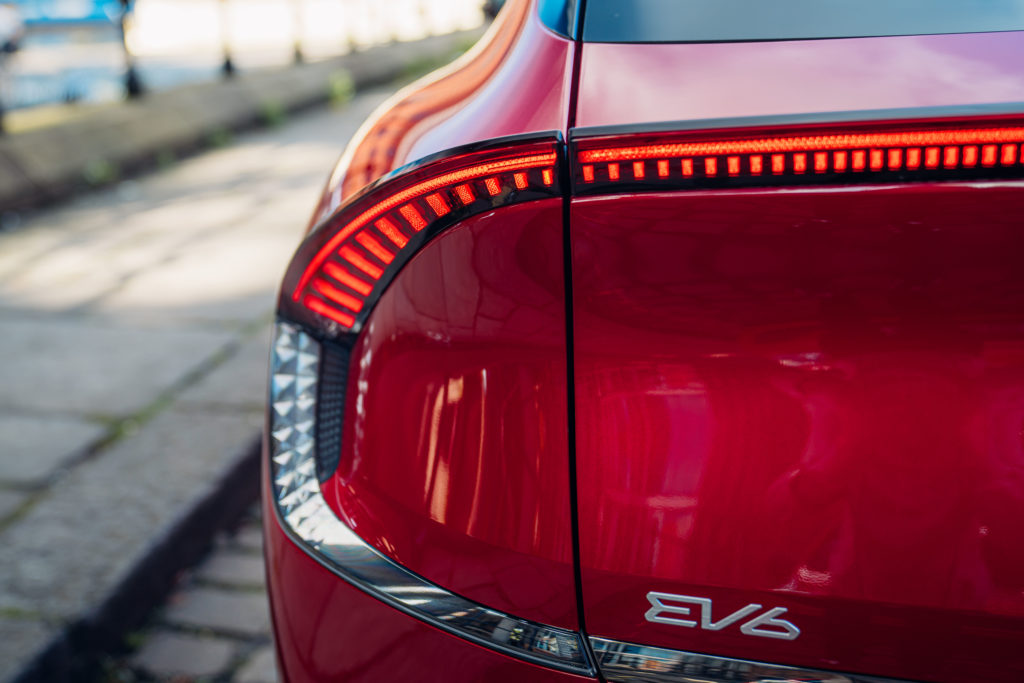 The EV6 was the first product of a new Kia range of styling that seeing more models appear. It shows a completely new design language that's trickling down throughout the range as we go forward. Its design cues have already had an influence on other manufacturers.
The car is dynamic to drive, fun with plenty of performance. But it's easy too, welcoming and takes all road types, situations and driving styles with ease, though you might want to breathe in on those narrow lanes. Despite the large, raked windscreen pillars, vision all-round is good, and the interior has a light airy feel. All round sensors, as well as 360 degree reversing cameras, add to the driver's confidence in all types of manoeuvres.
There's nothing intimidating here. Instead, the KV6 invites you to enjoy it, whether off for the weekly shop, or a cross-country tour, the city streets or the open road, riding the rolling hill and touring the motorways. The interior may not quite match of the Audis and Mercs, but it is comfortable, well put together and bathed in refinement. There's an engaging use of materials, while the technology on offer will happily keep the techno geeks entertained.
The range and top charging ability mean that it embraces the electric future of practical, eco-friendly driving. Build quality is high, as we have come to expect from the Korean manufacturers, with a real air of practicality, hints of luxury and a real sense of longevity.
Going for gold
So, is it worthy of the 'Car of the Year' mantle? Well, the number of awards and accolades it has already won certainly support the title. Kia set out to define the style of its EV future, but it's gone beyond that to stamp a level of authority on the whole industry. It has studied the competition from the likes of Tesla and Jaguar's i-Pace, imagined the stylistic electric future and plugged into the techno wave.
The KV6 is flexible, dynamic, practical and fun, combining the hi-tech with simplicity for success. While I personally am less engaged by the current fashion of the SUV big style design in modern cars that has been taken up by nearly every manufacturer of late, this car still manages to feel svelte when behind the wheel – it may be bigger than you think, but certainly not a handful behind the wheel.
It's fun and very, very useable. It can travel the distance, but if you need to stop for a coffee it can gain hundreds of miles of charge in under 20 minutes. Its fast, silent speed putting a big grin on your face while you and your passengers relax in the comfort of a modern lounge like interior. Just as it has power to go, it lacks little in the steering and stopping departments either.
I can't see another model that deserves the title more. The KIA EV6 ticks all the boxes on the ECOTY jurors' marking sheets and I certainly charging ahead in automobile development. In fact, it signals a great way to cross over to the electric avenue and the future… for now.