Android Auto
We get the inside track on Android Auto with a review from Andy Ogborne BSM Partner Franchise
This week's 'For ADIs by ADIs' features a review of the Android Auto in car infotainment system from Andy Ogborne.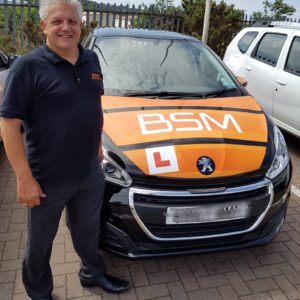 Car – Peugeot 208 1.2 Pure Tech Active System
Android Phone – Samsung Galaxy 8
Music
The apps that I use in vehicle are Spotify and Tune In radio. I have a subscription for Spotify, within the vehicle I am fully able to use this app, so have full value for money, both at home and in car. The reason for using Tune In radio, is that should I listen to radio, then I have the option to listen to any genre radio station, worldwide. Although there is the option to play music through Deezer and Google Play Music. I find it easy to navigate around playlists, as tend to use voice recognition
Navigation
I use Google Maps. Having access to "All you can eat data", through my network provider, I am not restricted. I use it with my learners, always having this on during lessons, so that they are aware of the Sat Nav – for this, I set the "muted" option. When I then do a sat nav drive lesson, I feel that the learner has had an awareness of this being on, the Sat Nav drive lesson is made that little bit easier – of course for this lesson, I would then unmute, so that the learner can follow voice instructions. The only disadvantage to using this, is that no prerecorded test routes can be set. Also, with the TomTom 52, the speed limits on road is shown in a red/white (giving orders), but this is not available on Google Maps. I have on occasions used the App "Waze – GPS, Maps, Traffic Alerts & Live Navigation", as this also is an excellent app to use within a Sat Nav drive lesson – this app can give notifications about traffic conditions affecting the drive. This app alerts to roadworks (same as google maps), also speed cameras, with an advantage over google maps, in that it shows speed limits (similar to TomTom52).
Messages/Phone 
Controls that I would put in place, would be to mute any of the messaging sources within my phone, so that any distraction is removed for the learner. Using Voice Recognition, I am able to message my pupils if I am running late for their lesson. This saves time, in that I do not have to stop, turn off the engine, remove key, to advise the pupil that I am running late. Excellent use of Voice Recognition on the Auto Android.
Apps 
Other apps that can be accessed would be Facebook Instant Messenger, which I use on my Facebook Business page, as this may have a message from a learner with regards their lesson for that day, or a future lesson – if this is of an urgent nature, then I would have immediate access to this.  This has saved me a wasted journey and makes planning much easier. Should you wish to hear anything (not play) which may be relevant to the lesson, then YouTube could be used, which could be played within vehicle, i.e. to explain a driving manoeuvre, or something else related to the lesson.