Lynne Barrie: Surviving the pandemic
The ADINJC chairman talks lockdowns and lowdowns of the last year and what the future holds
Advertisement Feature
In the craziness of this last eleven months, organisations such as the ADINJC have been at the forefront of providing help and support to the driver training industry.
The efficiency with which the ADINJC got up to speed with relaying the breaking news, developments and implication for driver trainers was second to none. What's more, they immediately set up advice and helplines, providing personal support and qualified information to callers, not to mention the all important skill of listening.
The way they have gone about these tasks alongside their usual business deserves great credit.
Leading the drive and, sitting behind the wheel of ADINJC itself, is the dynamic figure of Lynne Barrie, the Chairman.
We thought we'd catch up with her, socially distanced via information highway of course, to see how she, personally, has been faring in these strange and difficult times.
How have you found this year of pandemic and lockdowns?
From the point of view of being the Chair at NJC it has been an extremely busy one, helping members, running webinars and free training webinars since all this started.
We designed a 'toolkit' of useful resources for ADIs and PDIs during COVID, for members and non-members alike, as we were aware that we needed to help as many people in the industry as we could, working with them all and sharing resources. This was an unusual time and, like everyone else, we were on a steep learning curve, not least about the pandemic and its effects. As ADIs ourselves we understood the challenges that the industry were facing. As time has gone on we have adapted and evolved the webinars, helping with financial through to mental well-being advice.
It does feel as if this last lockdown has been worse for many colleagues; it's now gone on for so long and the lack of a salary has made it a huge struggle for many in our industry.
What have been your most personally challenging times?
I'm an optimistic person. I can see light at the end of the tunnel, especially now we have the vaccine being delivered so effectively. I do try to use the coaching skills I've learnt on myself. However, in truth, some days feel better than others and my energy levels vary equally. 
Not being able to visit my family when I want to has been the most challenging for me. We don't live close by to all our family. It's been hard to accept using zoom as a replacement to overnight and weekend stays. I have two small grandchildren, one born just at the start of the pandemic. Not seeing them, missing vital stages of their early months does upset me; you can't get them back. I'm a family person and this really has been the hardest part of all to deal with for me personally. But I'm lucky that everyone has stayed safe and well, so I'm really looking forward to a big family party when the time comes.
While I realise I've learnt new skills and achieved a lot myself, there is a limit to how much gardening and clearing out of cupboards I want to undertake!
ADINJC has been at the forefront of helping ADIs and PDIs throughout the industry. How do you think the industry is fairing through this crisis?
It's been really badly hit. So many ADIs didn't see this lasting as long as it has. They've become anxious and stressed with the financial implications and this has only increased the negative mental health impacts on themselves and their families.
The industry has undoubtedly lost quite a number of ADIs and PDIs during this time. Many have had to find other jobs to earn essential money and others have decided to take early retirement as an option. It's certainly been a time for reflection for ADIs, especially with so many not having savings to see them through the pandemic and have struggled financially.
I've been surprised by the number of ADIs who just live from week to week, never saving money for unforeseen events like this.  It's why I think learning how to run a business is a very important part of becoming an ADI and we need to make sure it becomes a much more prescient part of training to become a driving instructor. It's not just about teaching. Many ADIs have young families and child care responsibilities, so those responsibilities, often with home schooling on top, has been a real pressure point and worry for some instructors, adding to the mental health challenges.
But its not all doom and gloom. Many ADIs and trainers have sought other ways of working and training online, adapting to the current situation. It will only help them improve their business when we come out the other side and make our industry stronger and fitter.  
This has been a learning curve for everyone, and demands for help have increased along the way. How has the ADINJC coped?
We hit the ground running. Being ADIs ourselves, we could see the effect on our colleagues and not being out working on the roads ourselves, it gave us more time to organise and help. It's also allowed us to look at future goals for the NJC as a whole.
We realised immediately the importance of getting news out to the industry. We set up newsflashes and newsletters, sharing whatever information we had beyond our membership and out to the whole industry. We're certainly proud of what we've managed to achieve and the way we've achieved it, providing direct personal support to anyone needing it. We were even at the forefront of setting up webinars to provide advice and answers, but also allowing ADIs to improve or upgrade their professional and business skills. I hope they've been effective in their aim,  and the hundreds of supporting emails we've received suggest a high level of satisfaction and gratitude.
Whilst it's been a challenge, it's also been very rewarding to be part of the team here. It's also been good to see different parts of the industry supporting each other. The recent hardship fund for "Helping ADIs and PDIs" is an example of where the industry has really come together following a great idea by two thoughtful ADIs.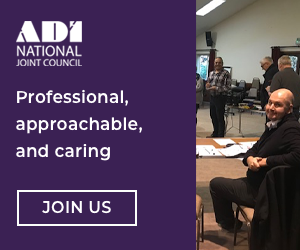 How effective do you think the official bodies have been in their delivery of advice, information and appropriate support?  
The messages from Government could have been a lot simpler and clearer. I would personally have liked to see more direct messages from DVSA to ADIs, helping them understand what support and help was there for them. It really wasn't clear at the start.
It's been compounded by the differences between the four nations that only bred more confusion. I would like to have seen the government be firmer at times, for example, clear national guidelines on wearing face coverings in the car in lessons throughout the UK. Whilst I realise the DVSA has to wait for Government,  ministerial instruction, there were too many occasions when ADIs had no idea whether they could return to work until a day before they were able to start again. It's been a learning process for all of us, but government and governing agencies should have been showing better leadership and decision making skills, let alone effectiveness in communication. 
Loveday Rider is the new head of the DVSA. What are you hoping she'll bring to the industry and what do you see as Gareth Llewellyn's legacy?
I am hoping for greater approachability, listening to ADIs and the national associations that represent them.  ADIs feel forgotten. We don't appear on lists of workers in England, yet hairdressers, tattoo artists, workers in cinemas, beauticians etc. do. This means that when government makes plans or produces guidelines and rules, such as during the pandemic, lockdowns and the tier system, ADIs are often left out. We don't know where we fit in. Not being classified has meant that some local authorities are refusing grants to ADIs. As an industry we keep the wheels of the UK moving and yet we get little recognition. It has to change and  the new CEO needs to make this happen.
Gareth Llewellyn seemed more interested in other areas under his remit. He did bring some changes to the driving test, the theory test and made the marking system digital for the practical test. But, sadly, I don't think he did much to improve official relationships with ADIs.
Post pandemic, how do you see the future for our industry?
The future is actually bright for the industry. With approximately 400,000 driving tests to catch up on, there will be a significant amount of work for driving instructors in all categories. Moreover, less people want to use public transport, so more will be wanting to learn to drive and refresh skills not used in a long time.
There's also a whole year of new 17 year olds looking to learn. There will be more people wanting to train to become ADIs. Numbers on the register have undoubtedly reduced during the pandemic, let alone preceding it, so there is plenty of space for new blood. It's going to be a busy time and we can all get back to doing what we do best.  
What positives, if any, do you think we can take forward from this whole experience ?
There are always positives, but sadly at the expense of so many suffering. People have learnt new skills, it's been a time to stand back and look at our businesses and consider changes and improvements. It has shown how vital it is to be business savvy as well as being a good teacher, because otherwise we don't have the foundations to put money aside for unexpected times such as the pandemic. It has also meant that many ADIs have met new colleagues and professionals in the industry, built networks and supported each other. These have to be good things we can grab hold on to and drive forward with positivity and purpose. I can't wait!