Meredydd Hughes
A Fair Cop
Born and brought up in Wales, they were car-less for many years: "We would rent a cheap Ford Anglia from somewhere or other in order to visit the grandparents, either in North Wales or London. I remember more than once having to push it to get it started after a cold night." But motoring would soon become an important part of Meredydd Hughes's life, as a police officer and Head of Roads Policing for the Association of Chief Police Officers. He rose to become Chief Constable of South Yorkshire Police from 2004 – 2011.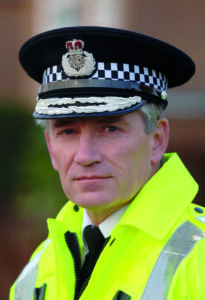 He is well known in road safety circles, not least for setting up Road Safety Support in 2008. "As the head of ACPO Roads Policing I saw that changes to government funding would result in us losing the technological expertise we had, and allow loophole lawyers to bring down the enforcement systems. I founded Road Safety Support Ltd to prevent that. It was – and remains – a not-for-profit company that helps to ensure the UK's enforcement strategy, equipment and procedures are amongst the best in the world". As his motto goes: Better to live one day as a tiger than a lifetime as a sheep.
I failed my test for accelerating too fast… my 17th birthday present was a home-made 'voucher' promising to pay for six driving lessons. I failed first time, but after practising with my very calm father (I was very impressed when I ended up facing the wrong way on the grassy central reservation of a road, and he merely said: "Shall we try that again?"), passed at the second attempt. My examiner complimented me on my brisk acceleration!
Our first car was an Austin Mini… we travelled all round the UK and to Denmark with our family of four inside, and a roof rack for the luggage. Its replacement, an Austin Maxi 1500, took us to France, and my father invited me (newly qualified) to drive us to the ferry in Portsmouth – he then promptly fell asleep. I took that as a sign of confidence. I've always loved driving, it represents independence and freedom, and it's a useful skill.
Today's test is much more complex… as my teenage son learned to drive, I would find myself defending the changes making the test more difficult. I couldn't do otherwise – as the Head of Roads Policing, I'd been lobbying for them!
I think we have steadily improved all aspects of the training and testing… we need to keep looking ahead – the use of Virtual Reality (VR) offers some opportunities, and I think we actually need to increase driver skill levels as we introduce autonomous vehicles. It's another new variable for drivers!
Young drivers aren't unfairly singled out… reducing death and serious injury amongst young drivers and their passengers must be a priority. I really don't understand why we haven't introduced graduated driving licences. What's more, too many young people are killed and injured in their school years. Road safety education should be an intrinsic part of the National Curriculum. Safely using the roads is essential, particularly as we move to more cycling and walking.
We need to increase detection and penalties… there's no one magic solution for raising the general standard of driving though, no single gimmick. Doing more of what we know works is the key, and we need to stop police chiefs removing officers from the roads. We may have the safest roads in Europe, but such things change so quickly. People's lives aren't a statistical comparison.
My Police driver training course was amazing… I learnt so much and my instructor removed many bad habits. I'm very lucky to have had the opportunity to develop my skills. Too many people learn to drive in their youth and never update their skills as the road environment changes. As a police officer, I've had to attend too many fatal collisions and enquiries as a result.
The professionalism of ADIs has increased greatly… they are closely in touch with young drivers. I hope the professional representative body [NASP] is on every government consultation to ensure their perspective is properly understood.
Change through technology is a good thing… every year new vehicles get safer here in Europe. By the way, that's not worldwide. I was listening to the NCAP Asia representatives recently, and they still struggle with manufacturers producing vehicles that are death traps.
We need to take innovation into other areas such as road engineering, driver training and remote enforcement. We are lagging behind places like Singapore, Shenzhen and Dubai. Why? Our infrastructure is some of the oldest and retrofitting safety is expensive!
I'm 61 years old and I passed my test at 18… I had extensive training and assessment in my job, but this isn't available for most. Training and assessment should be available for all, every decade. Even the threat of it would help! We have an aging population, and we need to keep them mobile and safe.