Fuelling the future
Fuel tax take up, but the tanks running on empty
The amount of tax collected by the Government from fuel duty increased by 24% year-on-year, new figures suggest.
However, the total tax take was still £1.7 billion (6%) down on the £27.6bn collected at the pumps in 2019/2020, prior to the pandemic.
Filling up
Fuel duty receipts in 2020/21 fell to £20.9bn (1% of GDP) due to the significant economic impact of the pandemic. Lockdowns and restrictions on movements witnessed a huge decrease in motor vehicle use.
Last year, HMRC collected £25.9bn (1.1% of GDP) from fuel duty (2021/22).
In the face of spiralling living costs, the Chancellor, Rishi Sunak, announced a 5 pence per litre (ppl) cut in fuel duty. However, ther e accusations that fuel retailers have not fully passed on these price cuts. They are also being accused of failing to react quickly enough to a drop in the wholesale petrol and diesel costs in the last month.
Previously, fuel duty had been frozen at 57.95ppl since 2011.
Annual receipts and receipts as a proportion of GDP since the tax year 2002 to 2003 (Source HMRC).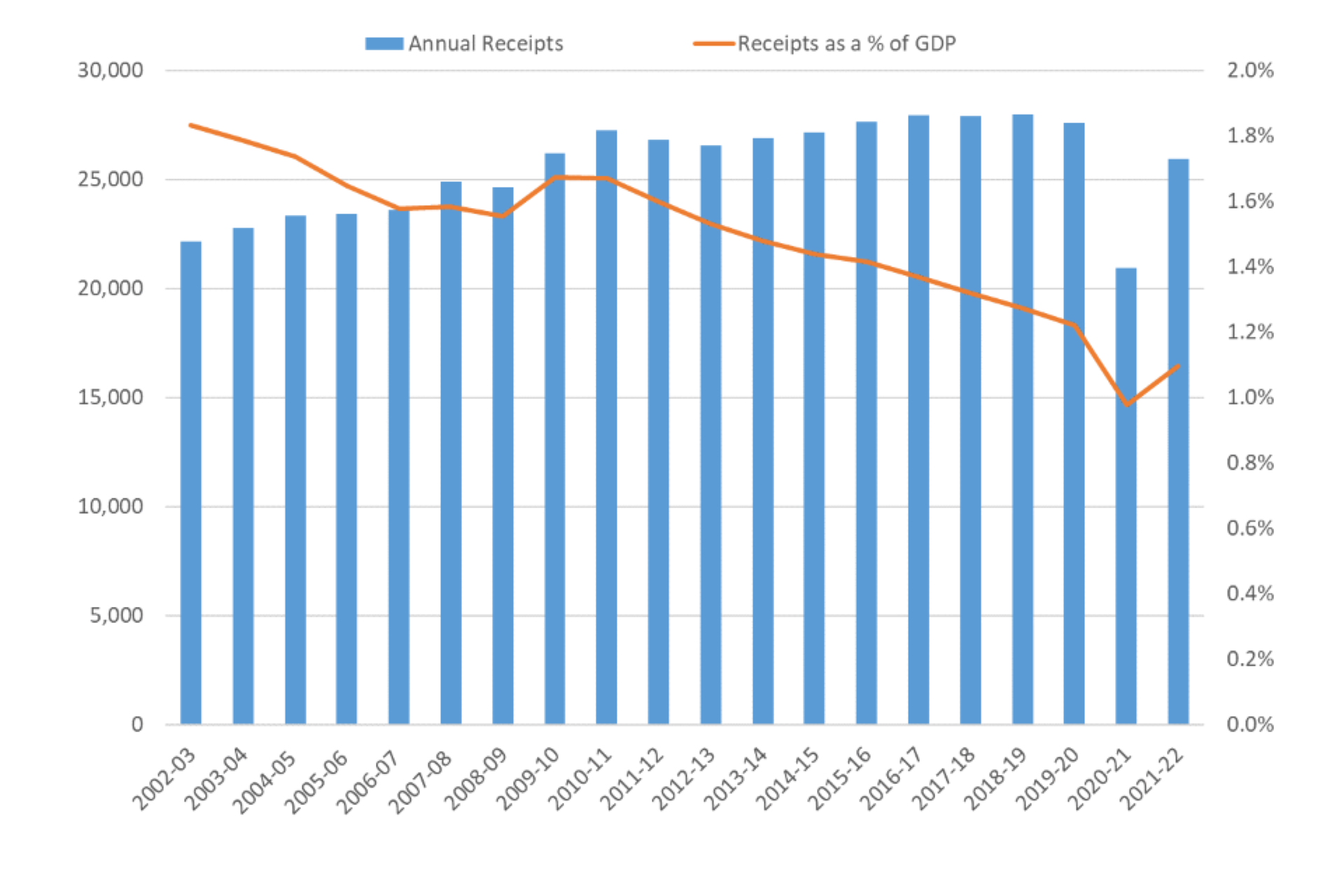 Bouncing back
The latest fuel duty figures were published alongside the total annual receipts for the past tax year.
HMRC collected £718.2bn in taxes in 2020/21, an increase of 22.9% from the year before.
During the tax year, receipts from Income Tax (IT), Capital Gains Tax (CGT), and National Insurance Contributions (NICs) combined accounted for 56% of the annual receipts.
Helen Morrissey, senior pensions and retirement analyst at Hargreaves Lansdown, said: "HMRC's tax take is on the rise as the UK emerges from the pandemic with an eye-watering provisional haul of £718.2bn.
"Income tax and national insurance receipts have continued to surge as the number of people in the workforce increases, while the buoyant house market has seen stamp duty reach an all-time high of £18.6bn.
Uncertain future
However, the financial costs involved in propping up the economy over the pandemic has involved huge borrowing. The need to reduce this debt whilst also facing a post pandemic economic crisis spurred on by the war in Ukraine is causing huge concern at the Treasury.
Morrisey concludes: "As we emerge from the pandemic, we face difficult times ahead as the cost of living starts to bite.
"The property market has thrived in the past year as buyers took advantage of stamp duty holidays to bag themselves a new home.
"But with costs on the rise, it's uncertain how long the market can sustain this momentum and we could see a quieter year ahead.
"Workers will also be bracing themselves for the 1.25 percentage point rise in national insurance which began in April – a further cost increase impacting already squeezed budgets."