Hands free failure
Increasing concerns over new government legislation about phone use behind the wheel
New rules on the use of mobile phones while driving, do not go far enough.
They are being labelled a "missed opportunity", by road safety experts.
The Government has announced it will be illegal to use a hand-held device under virtually any circumstance while driving. However, as previously reported, hands-free calls will still be permitted. This means that the potential risks around distracted driving from infotainment systems remains unresolved.
Mental
Fleet risk director at Driive Consulting, Alison Moriarty, is less then impressed. "The physical effects of holding a device are not as much an impairment to concentration as the mental distraction of holding a conversation and this is the same when using hands-free." She goes on to point out that you are "four times more likely to be involved in a collision, resulting in injury, if you are on a call including using hands-free options."
The comments concur with those of Shaun Helman, chief scientist for behavioural and data sciences at TRL (Transport Research Laboratory). While he welcomes legislation being updated, its fault could actually be a "bad thing". The governments proposals retain the focus on hand-held devices. But it is not the physical elements of holding a phone, but the mental distractions of telephone conversations that matter. "It reinforces the myth that's the most important thing," he says.
There are four types of distraction: manual, visual, auditory and cognitive, explains Helman. "What this law still does is focus on just one of those." He classes this as a "flawed narrative that, as long as you're not holding something, you're safe."
It was already illegal to text or make a phone call using a hand-held device while driving. The new rules specifically ban drivers from using their phones to take photos or videos, scroll playlists or play games.
Loopholes
The Government launched a consultation on mobile phone use while driving in October 2020. The idea was t clopse a legal loophole. It has enabled lawyers to successfully argue that using a phone's camera while driving does not constitute "interactive telecommunication"
Transport secretary Grant Shapps says "we are ensuring the law is brought into the 21st century".
Anyone found guilty will face a £200 fixed penalty notice and six points on their licence. However, 'hands-free' while driving will continue to be legal. However, if police deem a driver is not to be in proper control of their vehicle, they can be charged with careless driving.
Moriarty says the changes fail to grasp the gravity  of the evidence available. Mobile phone use by drovers should be banned, full stop. She believes drivers will continue to "fail to be in full control of their vehicles".
Distraction
Helman says that one of the problems is that "we don't really know what's safe enough".
A report he co-authored explains that there are rules of thumb. Specific studies reveal the effects of distraction.
Work from TRL found that the slowing of reactions was even greater than those for drivers over the legal alcohol limit for driving.
"There's an acceptable level (of distraction)," states Helman. "But I suspect it probably should be below hands-free phone conversations."
He also acknowledges that infotainment systems, increasing connectivity and access to apps, are part of the problem.
"There's a clamouring for the driver's attention," he explained, with poor design being a particular problem. "Badly designed interfaces will jar and cause attentional refocusing."
Research by IAM RoadSmart shows that infotainment systems impair reactions times more than alcohol and cannabis use.
The study was undertaken by TRL on behalf of IAM RoadSmart, the FIA and the Rees Jeffreys Road Fund. It found that reaction times at motorway speeds increased average stopping distances to between four and five car lengths. Drivers took their eyes off the road for as long as 16 seconds while driving. Also, using touch control resulted in reaction times that were even worse than texting while driving.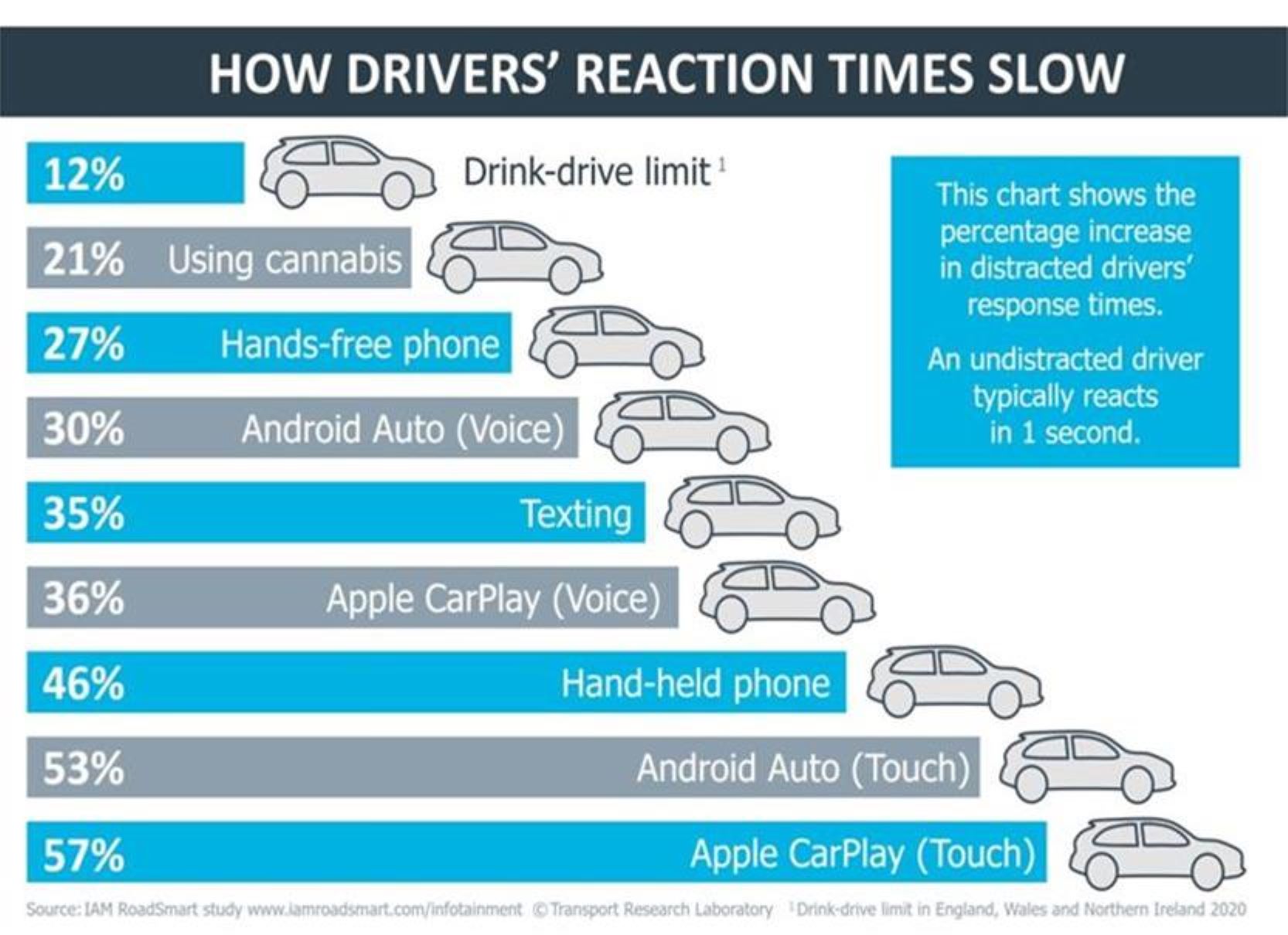 Agreed standards
TRL says a policy based on an agreed metric of attention is needed. This could be probably arrived at through a standardised testing approach for any new technologies. mIt believes 'attention testing' should be akin to 'emissions testing' for personal, vehicle and roadside technologies. It would allow vehicle manufacturers to design systems appropriately. The effect could be more like that of Euro NCAP standards for vehicle design.
Moriarty agrees and wants to see a "holistic industry working group set up". It needs to include the vehicle manufacturers she says. "Any of these systems need to include rigorous safety features to stop drivers accessing them while driving."
You can read more about these comments in a Fleet News article here