Pass your Theory Test or your money back – Driving Theory Test 4 in 1 app introduces a Pass Guarantee!
Learner drivers who have had their driving lessons halted and tests cancelled since March, can now get a guaranteed pass in their Theory Test thanks to Driving Test Success.
The Driving Theory Test 4 in 1 app, the UK's leading app for learner drivers, has launched its 'Pass Guarantee' scheme, backed by a structured learning plan that when followed, guarantees learners will pass their Driving Theory Test. The Pass Guarantee scheme helps learners structure their revision by following a set revision plan. Upon completion, should they fail their Theory Test, they will then qualify for their test fee back (T&Cs apply).
Driving Test Success has helped over 13 million learner drivers prepare for their Theory Test and includes every theory test revision test question, answer and explanation (licensed directly from the DVSA) plus 85 Hazard Perception Test clips, the Highway Code and all the road signs.
With over 21 years' experience in the Learner Driver market, Focus Multimedia have worked closely with TheGameCreators to produce a market leading app, containing everything a learner driver needs to pass their Theory Test first time.
Emma Bagnall, [Brand Manager] from Focus Multimedia, said today, "9 out of 10 learners pass their Driving Theory Test using nothing more than our app! We're very pleased to have developed an app that means learners can revise with full confidence knowing they have everything they need to pass their Driving Theory Test first time. Now, so confident are we in our app, that with our new Pass Guarantee we'll give them their test fee money back if they fail!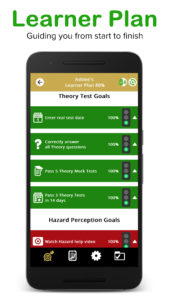 Named Apple's No.1 paid iPhone app for the last two years, the Driving Theory Test 4 in 1 app also won 'App of the Year' at the FirstCar Awards in 2019, was winner of the Auto Express Theory Test App and won DIA Driver and Rider Training Awards "Product of the Year". The app consistently receives excellent ratings and reviews on iOS and Android has over 80,000 reviews and has a rating of 4.8/5.