The specs
| | |
| --- | --- |
| Model tested: | BMW i3s range extender |
| Price: | £39,395 (less £4500 grant) |
| Engine: | 645cc |
| Power: | 183bhp |
| Transmission: | Single-speed |
| 0-62mph: | 7.7 seconds |
| Top speed: | 99mph |
| Economy / CO2: | 403mpg/14g/km |
| Insurance: | 29 |
Review: BMW i3S (Overall score = 4/5)
Electrified vehicles are all the rage right now, with more of them available than ever before. These include pure electric vehicles (EVs), hybrid and plug-in hybrid (the latter have a longer electric-only range) and range extender (REX). If you're wondering what the latter is all about, that's what we've tested here – although the BMW i3S is also available in pure electric form. A range extender is an electric car with its own on-board generator; in this case a 647cc two-cylinder unit. Unlike in a hybrid, a range extender's wheels are always driven by electric motors so the engine only ever acts as a generator, but having it on board ensures you've got an extra dose of range if the batteries go flat. In some ways such cars make the most sense for you to be using because the technology and driving experience will become the norm, but on the flip side the purchase costs are still very high, although lower running costs go some way to making up for this.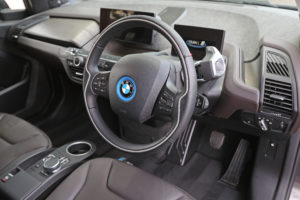 Cabin (4.5/5)
As with the exterior, BMW hasn't held back with the cabin design which is avantgarde but not crazy. Things kick off with rear-hinged handles on the front doors which you have to open to then open the rear-hinged back doors. At 4006mm long the i3 is shorter than a Fiesta yet its cabin is very spacious with lots of rear seat space (for two only). The luggage bay is small though; the engine and electric motor are under the boot floor while the battery pack is integrated into the floorpan, under the cabin. The seats look flat and unsupportive but they're excellent even on long journeys; throw in lots of cubby hole space and lashings of quality materials throughout the cabin and it's easy to see why spending lots of time here would be no chore.
Driving (4.5/5)
You're training a new generation of drivers – the drivers of the future. So it makes sense to use the most futuristic tool for the job and that means something like the i3. Available only as a single-speed auto, the i3 is incredibly simple to drive but it can initially seem daunting because of the unusual dashboard layout. The gears (Park, Neutral, Drive, Reverse) are controlled electronically via a button behind the steering wheel and depending on which mode you choose (there are four available) the regenerative braking can seem very harsh – to the point that you use just the accelerator to drive the i3.
You prod it to go (with loads of instant, silent torque so it accelerates away very smartly), then when you lift off it's as though you've applied the brakes. At this point you're topping up the battery pack and in the right circumstances such as urban driving it can take seemingly forever for the range to reduce appreciably. Choose a sportier mode and the regenerative braking effect is much less obvious – although you soon get used to it if you use one of the harsher Eco modes. BMW pulled out all the stops to create the i3 which is why the bodyshell is made of carbon fibre. That makes it very light yet incredibly stiff, which helps with agility and economy – but not, we suspect, the cost of crash repairs. Our i3S came with 20" wheels as standard; the regular i3 gets 19-inch alloys. The result is a ride that's a bit crashy on poorly surfaced roads but it's not uncomfortably so.
Usability (4/5)
BMW offers two versions of the i3; an all-electric model or the REX, as driven here. BMW helpfully provides real-world range figures for both (125 and 206 miles respectively), but how you drive the car makes a massive difference to its range. We managed just 135 miles at motorway speeds but pottering around town and slower A- and B-road journeys it's not hard to achieve over 200 miles on a full tank and charge. Run out of charge on the EV model and you're stuck – although you'll get plenty of warning that the battery is running low. Buy the REX and you can always put some fuel in the 9-litre tank so you don't grind to a halt. Use a standard domestic socket and from empty you'll get an 80% charge in 10 hours but with the right fast charger you can slash this to just 40 minutes. Incidentally, there's no danger of someone disconnecting your charger overnight because once you've locked the car the charger is locked into its socket.
Costs (3/5)
There are two trim levels (standard at £33,340 and i3S at £36,245); add £3150 for a REX over an EV, but a Plug-In Car Grant knocks £4500 off these figures to soften the blow. The standard i3 comes with all the kit you'd expect including superb LED headlights, rear parking sensors, heated front seats, navigation plus automatic lights and wipers. The i3S gets an extra 13bhp, sportier styling, sport suspension and a more dynamic steering set-up. Even though the REX is rated at just 14g/km of CO2, road tax will still cost £140 per year whereas it's free for the EV. Depreciation doesn't seem to be significantly worse than for more conventional alternatives on a percentage basis, but the higher initial outlay means the losses will be bigger.
With a monthly cost of around £400 for a PCP with a 10,000-mile annual limit the i3 is a costly proposition, especially when you consider that an Audi A3 1.5 TFSi costs around 25% less. BMW offers a £239 service pack that covers the first three years or 36,000 miles, but where you really score financially with the i3 is with the fuel, as long as you charge up at home or at a free charging point (which are getting rarer). There are too many variables to say exactly how much your fuel costs will reduce by, but owners reckon that compared with a 50mpg car the i3 cuts fuel bills by more than half. Take the petrol or diesel route and you'll pay around £1200 in fuel every 10,000 miles – but an i3 should cut this to less than £500. Focus on the financial side and the i3 doesn't make sense but look at the overall package – the design, spacious cabin, easy driving experience, excellent performance and high-tech specification and you might just be won over.