Seeing what success brings
The charity Speed of Sight celebrates in style with you
Speed of Sight is celebrating its 10th anniversary.
The charity all started with one man – the record breaker Mike Newman. In fact he has been honoured with many titles in the record books:
2001 – Motorbike speed record: 89mph on an Aprilia bike
2003 – Car land speed record: 144mph in a Jaguar XJR
2005 – Car land speed record: 176mph in a BMW M5
2011 – Aerial record flying the most loop-de-loops
2013 – Car land speed record: 186mph in a Porsche GT2
2013 – Water speed record: 93mph in a Silverline Racing Boat
2014 – Car land speed record: 200mph in a Nissan GTR
2015 – Truck land speed record: 120mph in a Man Racing Truck
2017 - Water speed record: 102mph in a Silverline Racing Boat.
Is it a bird, is it a plane…
'Super Human, Mike Newman' was born completely blind. Nevertheless, Mike's always had a passion for cars and a life's ambition to become a racing driver. A little difficult to achieve the latter when you can't see, but where there's a will….
Disabled, doesn't mean he's UNABLE. He knows the challenges blind and disabled people face. Couple this with his love and exhilaration for driving, and will power to achieve truly great things. But more than that, he wanted other disabled people to experience what he had. Not only that, why not let other's with good eyesight see the realities of driving blind.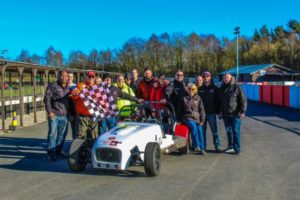 Life changing
Fast-forward over a decade, and 'Super Human, Mike Newman' is a nine times World Record Holder. He remains the fastest blind man on land and water on the planet.
Blind and disabled get the opportunity to try driving for themselves alongside skilled tutors and mentors. Corporate days allow blindfolded drivers enjoy the thrill and excitement. Fantastic fun, but also working to increase awareness of difficulties faced by disability. , as well as encouraging essential team building skills, such as trust and communication.
Celebrate success and bring happiness
The charity is celebrating the success of the charity and raise funds to keep the wheels turning. A formal three course meal with entertainment seems just the ticket. There's even free sparkling and wine!
Saturday 23rd April 2022 is the confirmed date. It takes place at the beautiful DeVere Cranage Estate in Holmes Chapel. It will be an evening full of friendship, fun, and fundraising.    
Every penny of the money raised on the evening will go to help the fund. It will help pay  for people of all ages with disabilities and/or sight loss to have the experience of their lives. This can change their lives for the better, forever. It's because of supporters like you that it's possible to do any of this. 
Join us at our 10-year anniversary extravaganza and celebrate not only the good work we've already done, but the great work we're still yet to do.  
Find out more here.