This disturbing image shows the dangers of resting your feet on the dashboard
A horrifying x-ray image has been shared by a police officer to warn about the dangers of resting your feet on the car dashboard
The image shows an unlucky passenger's pelvis with one hip completely dislocated and another broken. The unnamed victim suffered several other fractures to her legs after a collision in a moving car.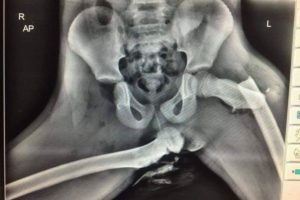 Sergeant Ian Price later shared the image with the caption: "Here is an X-ray of horrific injuries sustained to the front seat passenger who had their feet on the dashboard at the time of a collision.
"If you see your passenger doing it stop driving and show them this."
The Dyfed-Powys policeman said: "The objective in my post here is to educate and prevent significant harm to others."
A similar incident in 2017 left a mother permanently disabled after she broke her ankle, nose and femur in four places while travelling as a passenger in her husband's car.
The victim, Audra Tatum, said: "All my life I had my legs crossed and my foot on the dash. My husband always told me, 'You're going to get in a wreck someday, and you're going to break your legs'."
Ms Tatum explained that she was unable to react in time to a collision and move her legs.
"The airbag went off, throwing my foot up and breaking my nose… I was looking at the bottom of my foot facing up at me."
The Royal Society for the Prevention of Accidents advises that airbags "have to expand at anything up to 160 mph".
Passenger safety has come under increased scrutiny recently, as RAC revealed that more than a fifth of parents and grandparents confess to not using car seats for children just last week.
A worrying 3% of parents and grandparents admit to regularly driving a child who is not secured properly.
For more news and information from the RAC, please visit them here.