Goodwood – Reviving the senses
The famous estate's historic celebrations of motoring and so much more
Do you remember when the summer days seemed endless, sunny and free from the latter-day trappings of life, where you could wander through a dreamy sense of how things could, should, would be if you had control? A place where the best of the past mixed with all the present has to offer and the future might bring. An atmosphere not governed by masks, hand sanitiser and social distancing.
Well Goodwood's Festival of Speed and Revival make a pretty good stab at that. It's not just cars, speed and testosterone, but a step into a world that you thought was lost. There's smiles, social grace, food and fashion, thirst quenching entertainment, fun and frolics, great art and design and a dash or two of friendly competition, and all set in the graceful rolling green countryside of the South Downs. "Give me Goodwood on a summer's day, and you can keep the rest." So said Roy Salvadori, the British racing driver who raced here in its post war heyday. It sums up what I imagine most people still feel about that little pocket of West Sussex for which the adjective 'glorious' was seemingly invented. His quote adorns the famous footbridge that delivers buzzing crowds into the heart of the classic motor racing circuit. Put simply, Goodwood's two grandstanding events – the summer's Festival of Speed hillclimb and the autumn's Revival– offer the best way in the world to enjoy a sunny summer's day, not to mention historic motorsport. They combine to create a rich pageant of social celebrations, not least motor racing that vividly brings the sport to life, even for the non-believer.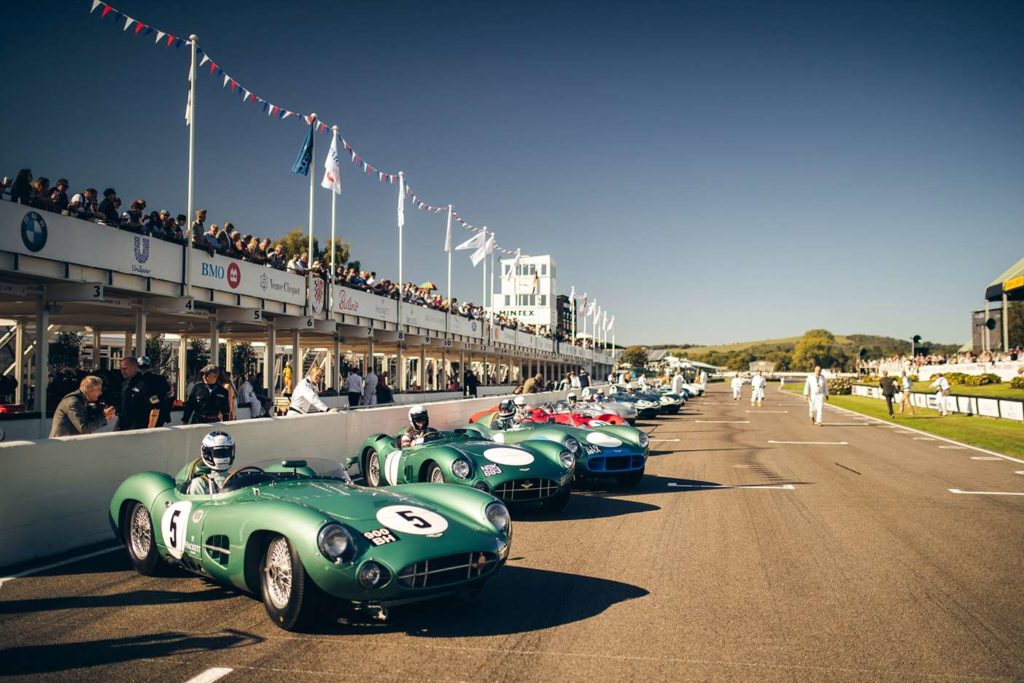 And breathe…
Morning and the air is crisp, blue skies graced with wisps of fluffy white cloud and the golden glow of the sun begins its rise over the proceedings. Amongst the rolling green hills of the historic West Sussex estate, excited folk march in period costume with a glint in their eyes, light on their feet with expectation – it is indeed like time travel, with all the best bits intact and the auto-manic horrors banished to another world. And that's not just because we've broken free of lock down and apocalyptic plague.
Revival indeed. Mechanics peel back the covers of sleeping historic race cars, drivers don tanned leather gloves and goggles, often disguising their celebrity status and racing stature, as C, D and E-type Jaguars, period Ferraris, Astons and Maseratis lead the field, spitting fire and gargling like the loveable pedigree beasts your boyhood memory expects. They are beauty, and splendour, tame to touch as you get up close and personal with each and every metalled magnificence both before and after they roll off to their tarmac taming endeavours – yes, they really do race these multi-million pound beasts. After all, that is what they were created for, bred to do, and they do it with real style, whether winning or spinning, and the pit crews are there to tend to their every need with spanners and polish cloths while happily gassing with you about every nut and bolt of their pride and joy. The attention to detail by the event's organisers means that even if they do lose control and need a helping hand back to the track or paddock, it is period pick-up trucks that do the dirty work.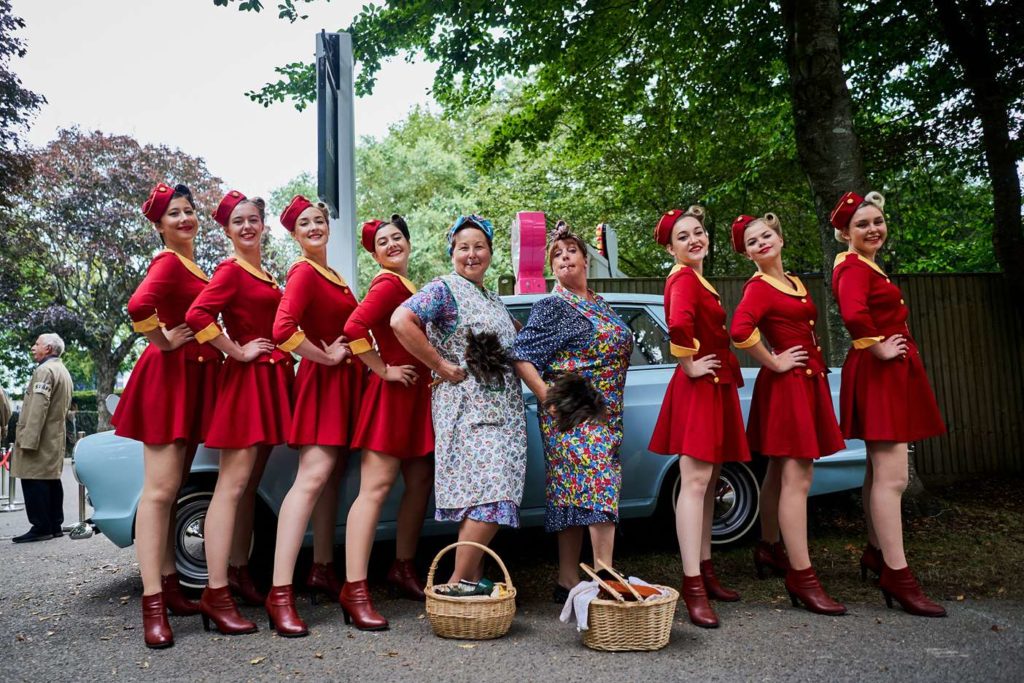 Eat, drink, shop, dance and indulge
Meanwhile you can stroll through a plethora of other entertainments such as cooking and cake making courtesy of Kenwood's mixing demonstrations, shop in period stores and vie for bargains in secondhand stalls of memorabilia. Brass bands, jazz bands, Rock'n'Roll bands try to compete with the piston pounding pop, and the Spitfires and Mustangs circling overhead cast a bird's eye view over proceedings and provide an alternative soundtrack of pure magic from the Rolls Royce Merlins. You could experience mods, rockers, beehives and hippies, even period rozzers rolling up to a recreate the rose-tinted spectacles of the past.
It's a true revival of your motoring and nostalgic senses, almost overwhelmed by the abundance of treasures on display and, while its not free, the freedom itself is worth the entry ticket. Food, fancies, collectables, desires, anything seems possible here as you relax and admire the landscape from atop the big wheel of the vintage fair as the sun sets and electric illuminations take its place.

In the fast lane
But if it is an intravenous injection of pure speed you are looking for, then cast your eyes and ears to the festival of that name in July, but still set amongst the soft hills of the Duke of Richmond's estate which serves to cushion the raw power and noise celebrated as the pinnacle of motorised contraptions. Did you know Goodwood farm was one of the first organic producers in the country and remains so?
They spread their shared history from old school record breakers to the latest F1 fashions, electrifying masterpieces to gas guzzling masterpieces tamed only by tarmac. Customised contraptions and freewheeling go-carts, two wheeled master classes in stunt work and endeavour, through to time trialled runs up the famous Goodwood Hill Climb that have even been immortalised in gaming simulation on the likes of Gran Tourismo – sometimes speed is just how they look, not how they go; theory and practice is relative, but it's all on interactive touchable display here.

You can't beat them, so join them
This is what makes the Goodwood experiences the definitive motor shows and so worth a day out. It is not a juvenile Top Gear dodgem derby with road safety, though it remains young at heart. Nor is it an elitist display of money, though there is plenty of wealth, not to mention experience, to be had. No, it is in the enthusiasm, the sharing of wonder, passion and participation, the mixing of cocktails and ale, celebrities and coal face workers, no segregation of man and machine, but a journey together through the joys and jousting of motoring history that stimulates the all the senses. And what's more, the staff are friendly, toilets are clean, the ingratiating menu of international foods a feast, whilst fashions flock the senses with period nostalgia and wonder in equal measure. Add to that the fact kids go free and the sun likes to shine too (most of the time).
The post-war 'Make Do and Mend' was one of this year's Revival themes, but Goodwood's motoring events are much more than that, even when stepping out of lockdowns. On the back of such dystopian historics, a journey into the unknown, these routes of escape seemed like pure nirvana. The relief on people's faces produced nothing but smiles, style and joy. Afterall, life is about experience, and Goodwood does that in boot-fulls a plenty. I recommend you hit the road this year and head south to what are probably the greatest motoring events on the planet, and a real rocket-fuelled tonic to your senses and your sanity.
Festival of Speed takes place 23rd-26th June and the season ends with the Goodwood Revival 16th-18th September.
Find out more here.