Car insurance mapped out
The postcode lottery of car insurance premiums
Rivervale Leasing has compared 1,000 car insurance quotes to reveal postcode affects on prices.
These are set against The Association of British Insurers average insurance premium in the UK of £465.
Top findings
Your car insurance could cost up to 78% more than average, depending on where you live
London, Manchester and Liverpool drivers pay over £300 more for insurance, on average
Drivers can cut the cost of their annual policy by up to 40% in certain cities
Bangor drivers see the cheapest insurance quotes at £189 less than the UK average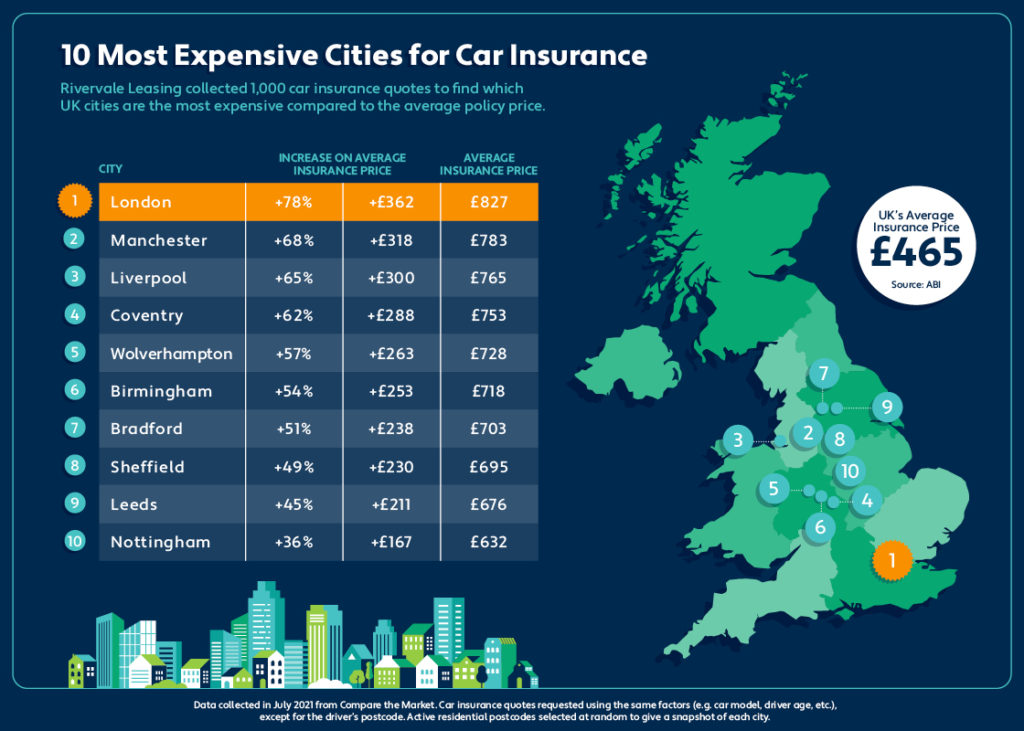 10 most expensive cities for car insurance
Londoners pay the most for car insurance overall, according to the study. On average, quotes from the capital city resulted in an increase of 78%, when compared to the typical policy price. That means you could pay up to £362 more than the average UK driver – a shocking £827 in total – simply by living in London.
Manchester follows as the second-most expensive city for car insurance. Quotes average out at 68% more than the typical annual policy. This results in a £318 increase, totalling £783 for one year's premium.
Living in Liverpool could also set you back, according to the research. The third-most expensive city saw an average increase of 65% or £300 for insurance quotes, costing £765 on average.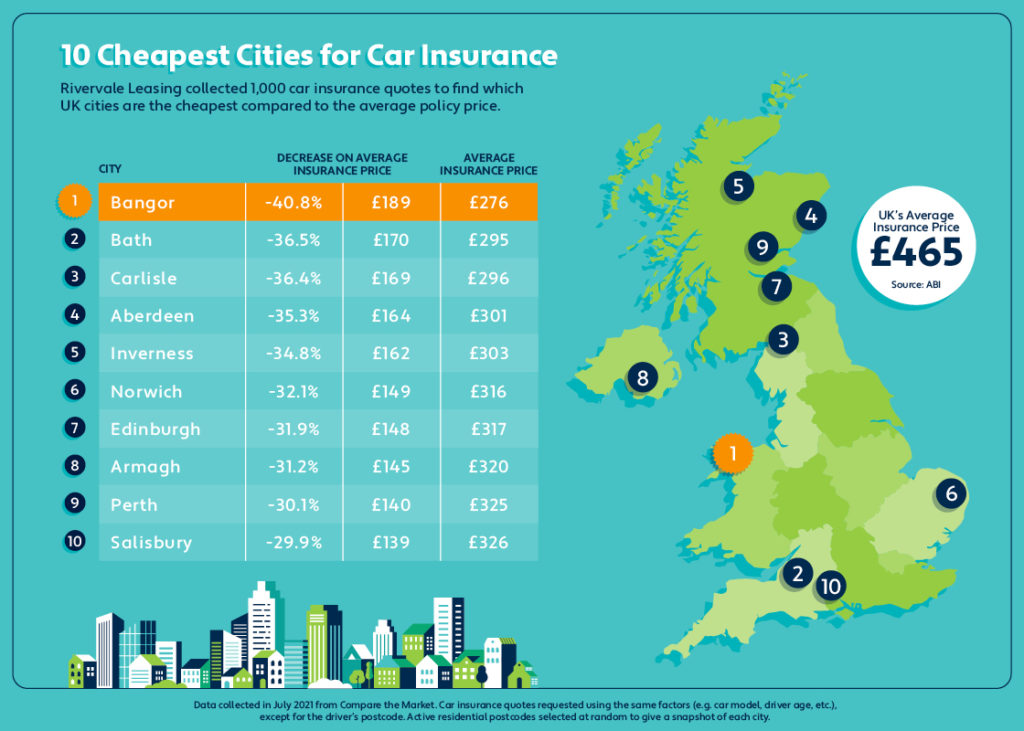 10 cheapest cities for car insurance
The cheapest place for car insurance is Bangor. We found that drivers' policies in the Welsh city were 41% cheaper than the typical UK insurance price. At just £276 for an annual policy, you could save a huge £189 on your premium, on average.
Drivers in Scotland can take advantage of low-cost premiums. Four Scottish cities make the top 10 cheapest places for car insurance, including Aberdeen, Inverness, Edinburgh and Perth. Aberdeen is the least expensive overall, as quotes are 35% cheaper than the average insurance cost, saving up to £164.
Methodology
Rivervale Leasing compared car insurance quotes across 50 UK cities, taking 20 policy prices per city, totalling 1,000. The data was collected in July 2021 from Compare the Market.
The quotes were requested using the same factors (e.g. car model, driver age, etc.), except for the driver's postcode. Active residential postcodes were selected at random to give a snapshot of each city. The cheapest annual quotes were chosen, excluding policies with a telematics system.
See the study here.
See more about car insurance comparisons here.